be honest
Art Direction
/
Project Management
/
Brand Identity
The time where I lead a team in organizing and promoting an annual student showcase for the local design community at Wieden + Kennedy in Portland.
---
roles
Project Manager
I delegated tasks and planned the execution schedule four months prior to the event.

Art Director
As an art director I focused on developing the concept and making sure the vision was executed cohesively across all platforms.
---
For this showcase, we wanted to be honest about the design process—the on-purpose work and happy accidents that shape how things fall into place.
Inspired by the Rube Goldberg machines
, we showed the steps students go through to make their work and prepare for the show.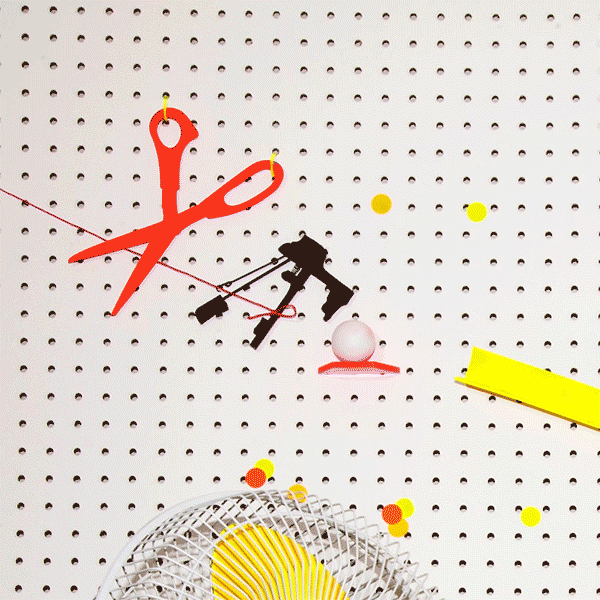 step one:
get the ball rolling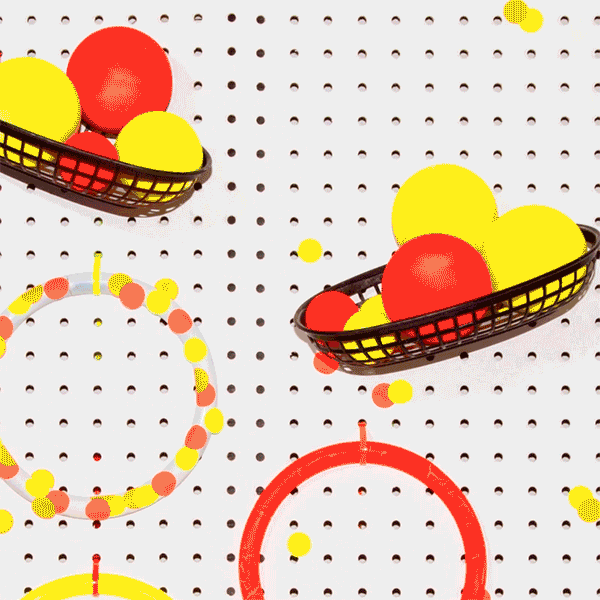 step two:
gather your ideas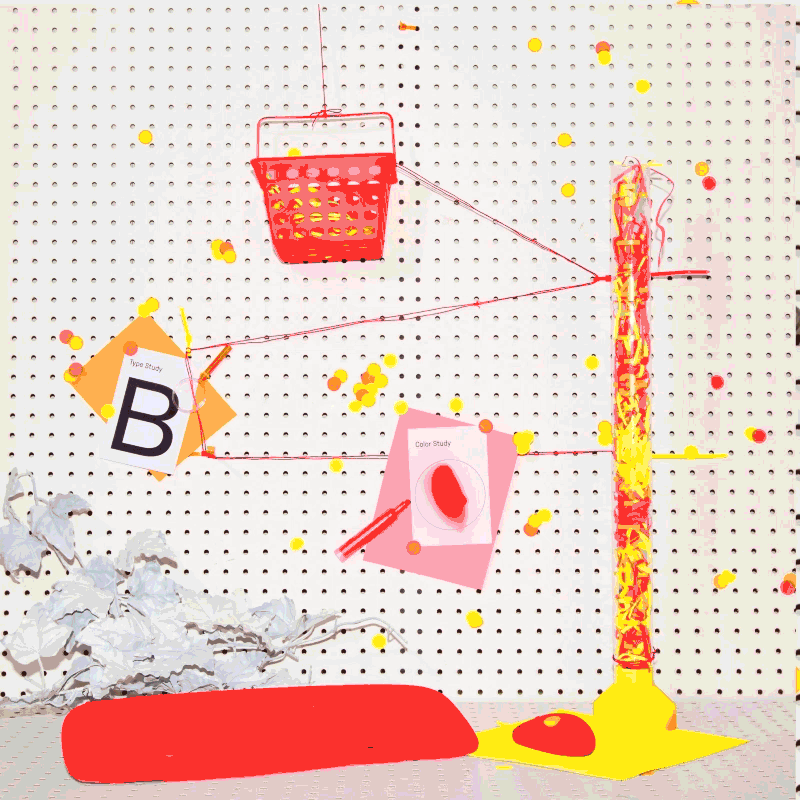 step three:
get to work
step four:
polish things up
step five:
hit the ball out of the park
---
project components
Print Promotion
In order to keep the focus on the online platforms where the content is in motion, the function of the print pieces was to give a sneak peak of the content in an exciting way.
We collaborated with
Violet Reed
to create custom illustrations to highlight the event speakers.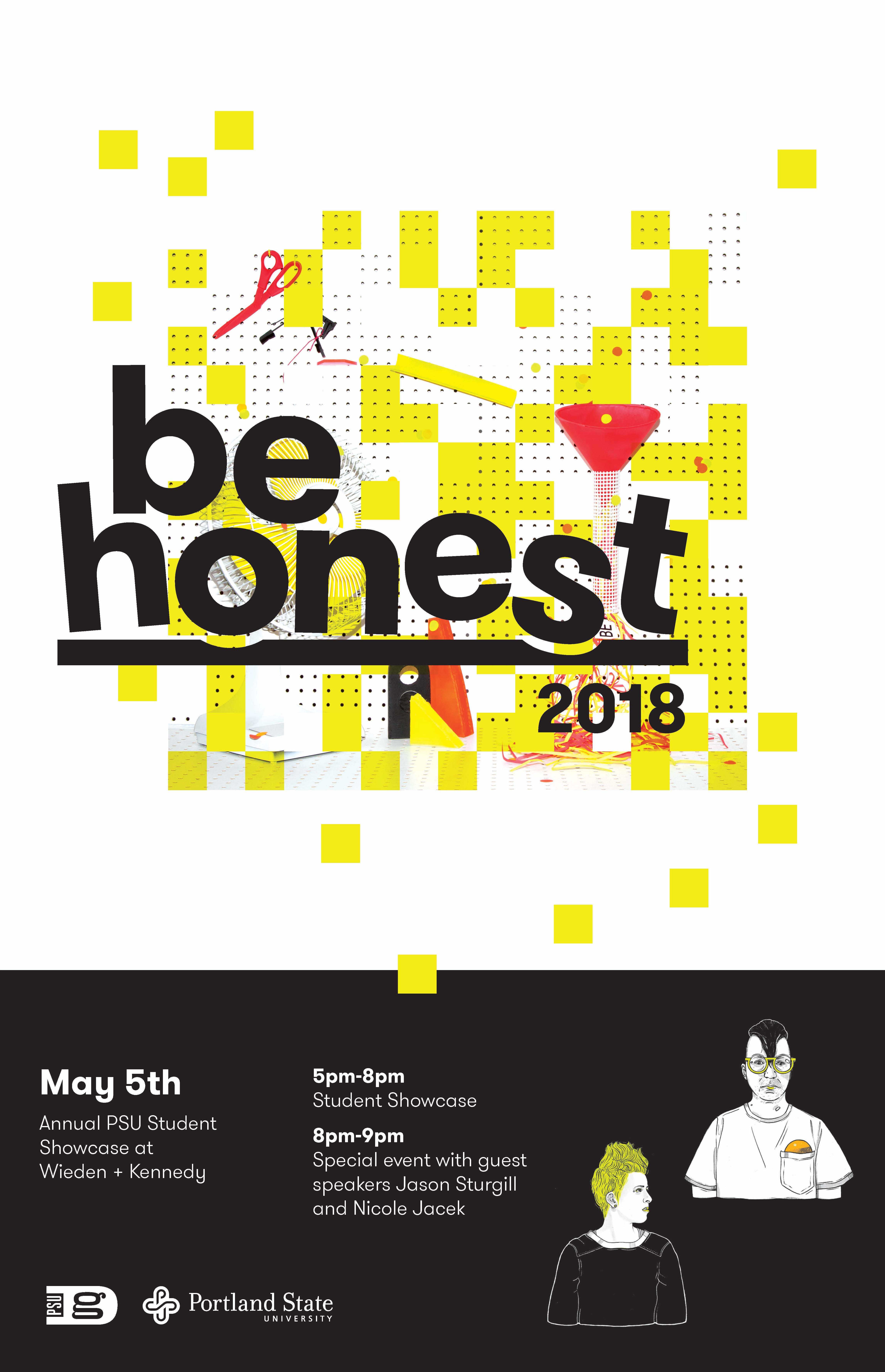 Social Media Communication
Weeks prior to the event, the team established an
Instagram presence
to keep the students and the community in the loop.
Web Presence
All of the communication led to the main website, which had event information, useful links and information about the participants.
---
Day-Of Collateral
We spiced up a black and white tote with bright buttons to carry the theme forward and match the rest of the collateral.
Day-Of Video
The team composed the video that was projected on each floor to orient the guests and reinforce the creative concept.
---
outcome

Our efforts garthered over
120 participants
across
four floors
of W+K's Portland office. And we had
over 1,200 people
stop by the event.
Stay tuned for the next Be Honest in 2020 on the
psu.gd
site.
---
Photos by
Jamon Sin
/
Caroline Ruiz
/
Red Kille
/
Sabrina Lozano
/
Irwan Caroline McGregor
Team
Anya Gearhart
/
Eileen Ewing
/
Skyler Weissenfluh
/
Kyle Charlson
/
Jordan Salazar
/
Ciera Tague
/
Jenny Vu
/
Brennen Reed
/
Leah Maldonado
/
Sydney Bardole
Under guidance and support of
Kate Bingaman-Burt
&
Sean Schumacher